English for Employment Prospects (EEP)

Objectives
* To equip girls and women from low income families with English language skills to enhance their employment prospects
* In addition, to give them access to information and enhance their self-esteem and social standing.

Reason
Sri Lanka has a literacy rate of 92.6 %, the highest in South Asia, but its English proficiency rate ranks very low at only 46.58%. However, today English is considered the most important skill requirement for career prospects and employment.

This project addresses this shortfall, with particular emphasis on less privileged women who can be extricated from traditional roles only through education, specifically with opportunities to learn English.

This falls in line with one of the Objectives laid out in the Constitution of GFS Sri Lanka : "To advance education, culture and any other charitable purpose for the benefit of women and girls".

This is linked to GFS Sri Lanka's 60 year old Hostel which provides safe accommodation to girls coming in to the city for the first time for new employment. Efforts are being made to expand the Hostel due to the demand for such facilities.

The Course
Applications will be called and selected applicants will sit for a placement test.

The Institution providing the English training will conduct a Course to suit the English knowledge level of the selected students. On completion of the Course, they will be awarded certificates.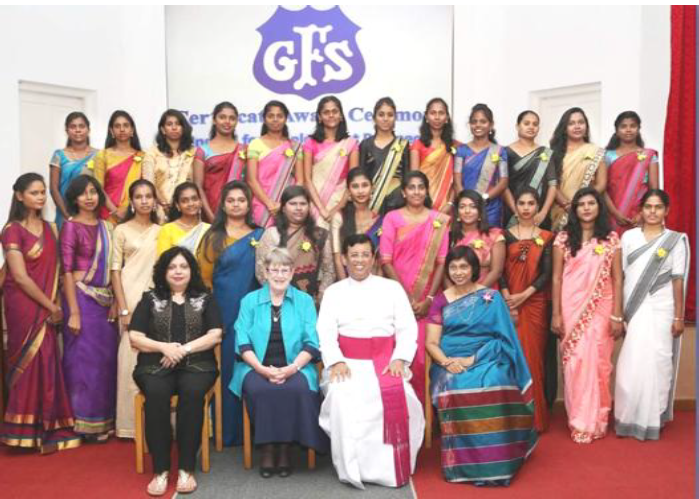 Support
Incentives and financial support will be available for students. ie. travelling, accommodation, meals etc., if required.

Personality Development
Training and workshops on personality development, good grooming, social ethics etc. to complete the "total look" will be organized for the students while they follow the Course.

Employment opportunities
GFS Sri Lanka will try to identify employers seeking staff and enroll students to work as interns while following the Course.
Details of students who successfully complete the Course will be posted on the web and this information made available to those who are in need of such services.

Stage 1 : Pilot Project in Colombo Stage 2 : Take the Project to other areas of the country

Cost
The total cost of the Project is expected to amount to : Sri Lanka Rs.4,000,000.00 = GBP 20,643.00 = USD 26,238.00
This project has now been finished. For information about the results of this project got to https://www.gfsworld.org/world-projects