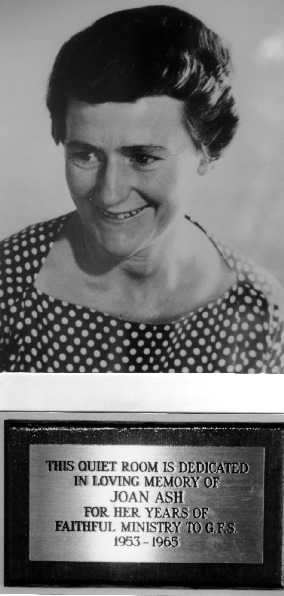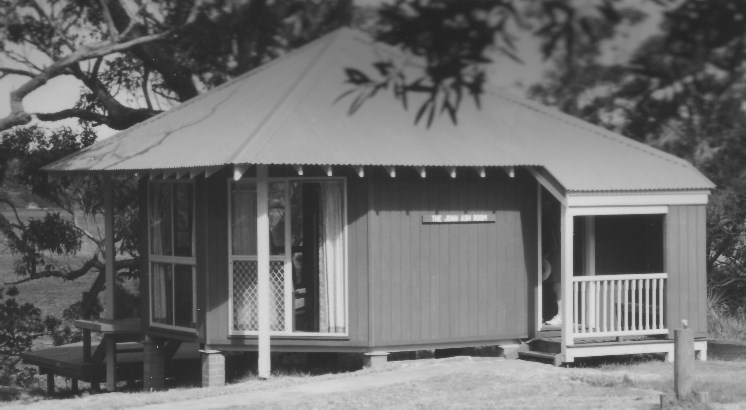 In 1953, Deaconess Joan Ash was appointed the GFS Sydney Organising Secretary. At the time there were 38 branches in the Diocese. When Joan retired in 1965 the number of branches had multiplied to 154. She was responsible for general organising of GFS and its activities, for the establishment of new branches and training of women for leadership. Joan also believed that training of leaders was essential for the future of GFS. She diligently worked with this object in mind during her 12 years of service to the Society thus playing a major role in developing a Leaders' Training Correspondence Course.In 1953 Joan was a delegate to the GFS Commonwealth Council held in Victoria. In 1959 Joan took on the role of Commonwealth Leader Training Officer. Her training sessions were character building and were great times of spiritual self-examination. Joan had a wonderful knowledge of the Scriptures and a talent to interpret the message from the Bible . These sessions were a time to experience relationships with other people and with Jesus Christ. They were also great fun as Joan had a wonderful sense of humour.
In 1957 Rev Neville Bathgate from the Youth Department introduced the concept of Christian Camping to Sydney. He encouraged Joan to share his vision which she did and became the Director of the Camp Howard Girls' camp. Each year Joan would spend 4 weeks at Christmas organising weekly camps for up to 120 girls and 30 staff as well as other school holiday and GFS camps throughout the year. Her organisational ability was outstanding.
In 1962 Joan was appointed as the Director of GFS in the Diocese of Sydney and was granted leave to attend the GFS World Council in Belfast, as the Australian delegate.
In 1965 Joan retired from the Society to further her ministry in Japan. Through some good friends there, she was introduced to the wife of the Bishop of Korea who was very impressed with the GFS movement in Japan. Joan encouraged Korean churches to initiate GFS in that country. GFS Korea still remembers 'Australian Joan' and the ministry she had with them.
Joan returned to Australia and became a divinity teacher. The first symptoms of Parkinson's disease were then noticed which she fought for the next 8 years. In 1986 she was honoured with a Life Membership of GFS Sydney. Sadly she died in 1989. A most appropriate memorial was erected in the grounds of the Chaldercot campsite along the Port Hacking River, south of Sydney, aptly named the "Joan Ash Quiet Room". It is to be used for small meetings or quiet prayer. The money for this building was raised by donations from family and GFS members as a thank offering to God for His obedient servant, who inspired so many and encouraged them in their faith to make a difference with their lives.